A static website consists of webpages designed using different languages like HTML, CSS, and Javascript. The web pages are stored as HTML files separately, and the file gets directly delivered to the webpage. One has to make changes to each HTML file individually, to make changes on a particular web page. Static websites' content is thus a part of the design.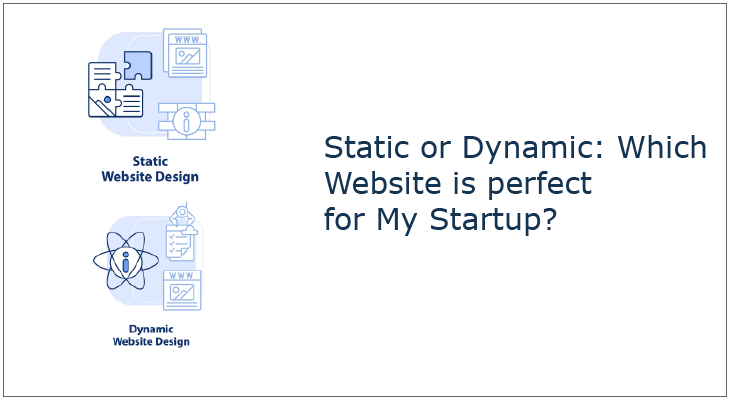 On the other hand, dynamic websites keep your data in a CMS (Content Management System) connected to the website's pages. Unlike static websites, here, information is displayed differently for each user. Its structure allows the developer to make multiple changes to many pages simultaneously and provides for a more personalized experience.
Benefits of Choosing a Static Website Design Company in Ahmedabad :
Static websites are secure, and it is difficult to hack them as they are not connected to a database.
Since these websites do not have to be connected to a database, they are less complex and are thus easy to create.
The content of a static website is directly delivered from the server, which makes the website load faster than others.
Benefits of Choosing a Dynamic Website Design Company in Ahmedabad :
Dynamic websites are easy to maintain. They are better for people who like to incorporate contemporary trends as they can be easily updated, as the changes made can be duplicated automatically for the other pages.
They are more user-friendly as they deliver customized content for their users, unlike static websites that provide content as it is.
Dynamic websites are more functional than static websites as they contain application programs for their various services.
The Perfect Choice for your Startup :
The decision of which website is best for your startup depends on the following factors :
Interaction :

You need to ascertain the interactive needs of your business to decide on a specific type of website.
Security :

Some startups deal with areas that might need more security than others. As noted above, Static websites offer more protection.
Customizability :

If the nature of your business is such that your clients are significantly diverse, you need a website that delivers customized content (dynamic) to keep the clients happy.
Online Trends :

Changing internet trends need to be added to websites to make them more relatable. One has to consider the nature of one's business to ascertain the type of website one needs.

AOM Web Designer is an upcoming website development agency for startups that offers the best web designing services at affordable prices in India. With multiple packages that are perfect for startups operating on small and big scales, it is the cheapest web development agency in Ahmedabad.